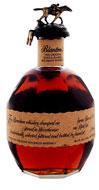 Bourbon is an American whiskey made from a minimum of 51% corn. The distilled fermented mash is then aged in new, charred Oak barrels.
The name Bourbon whiskey was derived from an area known as Bourbon County which was established in 1785 as part of Virginia. Now Bourbon County is one of 34 Kentucky counties. Bourbon whiskey was one of the original products of Bourbon County which later came to be known as Old Bourbon, County. Barrels of whiskey originating from this county were marked Old Bourbon to distinguish it from other types of whiskies being produced outside the area. Although bourbon originated in what is now Kentucky it refers more to a style of whiskey making rather than the area where it was produced.
In order for a producer to call the final product a Bourbon Whiskey there are certain criteria that must be met at each stage of its production.  Listed below are requirements as outlined in Title 27: Alcohol, Tobacco and Firearms.
| | |
| --- | --- |
| Production Location | The word "bourbon" shall not be used to describe any whisky or whisky-based distilled spirits not produced in the United States. |
| Barrels and Aging | Must be aged in new oak barrels. While there is no minimum aging time it must be aged for a brief time. If aged for 2 or more years it can be designated as 'Straight Bourbon Whiskey.' |
| Mash | Minimum of 51% corn. Rye, wheat and malted barley are generally used to make up the remaining mash. |
| Distillation Proof | Not to exceed 160 proof allowing the flavors and characteristics of the grains to be expressed in the final product. |
| Barrel Entry Proof | Must enter at no more than 125 proof in charred new oak containers. |
| Bottling | Bottled at not less than 80 proof (40% ABV) |
| Additives, Colors and Flavors | No additives, colors or flavorings can be added. |
Producers of Bourbon Whiskey
Four Roses

Four Roses Yellow Label 80°
Four Roses Small Batch 90°
Four Roses Single Barrel 100°
What is your favorite Bourbon?
Why do you like it?
Have you been to their tasting room (if they have one)?
Let us know via the comment box below.